Invisalign Teeth Straightening Services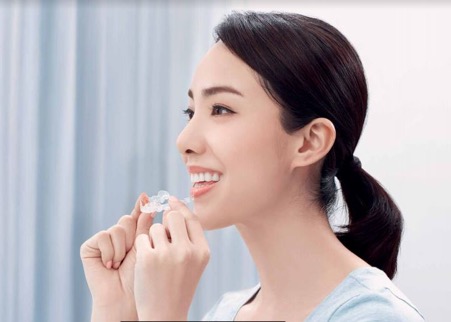 Our Invisalign® services take a modern approach to straightening teeth, using a custom-made series of aligners created for you and only you. These aligner trays are made of smooth, comfortable and virtually-invisible plastic that you wear over your teeth.
Wearing the aligners will gradually and gently shift your teeth into place, based on the exact movements your dentist plans out for you. There are no sharp metal brackets to attach and no wires that poke. You change aligners every one to two weeks, until your treatment is complete. You'll achieve a great smile with little interference in your daily life.
When to Get Invisalign?
First, you need to identify which orthodontic situation you would like to fix. Invisalign can treat underbite, crossbite, overbite, gapped teeth and crowded teeth. Kindly confirm from a qualified dentist on whether your condition can be treated by Invisalign. Secondly, your age is another determining factor that helps you know when you can get Invisalign. This form of treatment is ideal for teenagers and adults. It is not a good alternative for kids since their teeth are still growing. Moreover, Invisalign is better than braces because it is a transparent option. When getting Invisalign, you also need to be fully dedicated since it must remain in your mouth for 22 hours per day. And, you must remove them when eating or drinking.
Procedures of Invisalign Treatment
The dentist will assess your misalignment during the first visit examination with the help of photographs and radiographs. And together with your goals in mind, the dentist will formulate a customized treatment plan with the Invisalign Clincheck software. An intraoral scan will be taken and once the treatment plan is done (which takes around 2-3 weeks), you will be able to view the simulation of your treatment plan. Treatment will start in about 2 weeks after you approve of the dentist's customized treatment plan for you.
3 Simple Steps to a Newer Better Smile
Step 1) Once your doctor has confirmed your eligibility to treatment, they will take photos, X-rays and digital scans, or a dental impressions of your teeth. These records will be used to create a ClinCheck 3D treatment plan, just for you.
Step 2) Your doctor will fit your with your customized Invisalign clear aligners and you'll receive a series of aligners to take home so you can change them yourself every 1-2 weeks.
Step 3) You'll visit your doctor around every 6-8 weeks to monitor progress and receive new aligners. After finishing your Invisalign treatment plan, you will need to use retainers to maintain your new smile.
Prices
Starting from $4,500
FAQs
Q- What are the advantages of Invisalign over traditional braces?
#1. Appearance
A- Invisalign aligners are barely noticeable when worn due to the clear nature of the appliance. There will be less food trap after eating as there will be no wires or brackets to entrap the food. As compared to traditional braces, it is definitely more aesthetically pleasing
#2. Comfort
A- Without the wires and metal brackets which can cause incidents of wire poking or irritation from the appliance, the Invisalign aligners are by far more superior in terms of comfort. Since Invisalign aligners are made of plastic and custom-made, they will fit your mouth perfectly. The forces acted by the aligners on the teeth are very gentle therefore there will be minimal discomfort when wearing it.
#3. Health
A- Inability to clean around conventional metal braces can sometimes result in demineralization and decaying teeth. Maintaining good oral hygiene is easier while wearing the Invisalign clear aligners. Thus, there will be less incidence of decay.
#4. Knowledge
A- With the clincheck software, patients undergoing the Invisalign treatment will be part of the treatment planning of their own teeth. They will be able to see their finished look before they even start treatment and while undergoing treatment, both the dentist and patients are able to track their progress closely with the software thus making everything more predictable.
Q- Does Invisalign treatment hurt?
A- Invisalign doesn't hurt. However, there may be a period where every change of aligners may introduce some soreness on the teeth and this soreness means that the tooth is moving in the right direction. If worn correctly, this sensation rarely persists for more than 2 days.
Q- How long will the treatment take?
A- Treatment time differs from complexity of cases. It is thus recommended for you to inform your dentist your goals in the first visit and he/she could give you an estimate on the duration of your treatment.
Q- Are there restrictions as to what I can eat/drink during treatment?
A- There are generally no restrictions when it comes to eating and drinking while on Invisalign. This is due to the fact that aligners can be removed during eating.
What to Expect after Treatment
After undergoing orthodontic treatment via invisible aligners, you should follow your doctor's instructions on:
Oral Hygiene: Professional dental cleaning should still be done every 6 months to upkeep the oral hygiene of your teeth and gums.
Post-treatment Retainers: Retainers should be worn after treatment to maintain the corrected teeth position.