Dentures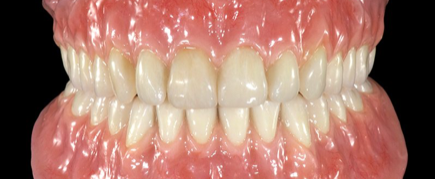 If you've lost some or all of your natural teeth, whether from periodontal disease, tooth decay or injury, dentures can replace your missing teeth and your smile. Replacing missing teeth will benefit your appearance and your health. Without support from the denture, facial muscles sag, making a person look older. You'll be able to eat and speak—things that people often take for granted until their natural teeth are lost.
How do Dentures Work?
The main objectives of dentures are to restore speech, aesthetics and chewing ability. It also helps to preserve the remaining health teeth while increasing patient satisfaction and comfort.
At dePacific, we are proud to say that we are able to produce different types of dentures for every patient's needs and budget, which are:
Acrylic dentures
Cobalt Chrome (Metal) dentures
Flexible dentures (Valplast and also clear dentures)
When are Dentures Necessary?
Dentures are generally necessary to replace missing teeth and they can help you to eat, look and speak better.
Procedure
The dentist will help you with the oral examination and diagnosis during the first initial visit and depending on the complexity of each individual's case, we would require between two to six weekly visits for obtaining the denture impressions; bite registration; and try-in before we can issue your denture to you.
Prices
Dentures are not claimable by Medisave. However holders of the CHAS Blue / Orange or the Pioneer Generation (PG) cards can receive government subsidies of up to $266.50.
FAQs
Q How long before I get used to a new set of dentures?
A It would vary between individuals but you would generally get used to your new set of dentures after a few days or weeks.
Q How many appointments do I need to get my full / partial dentures?
A You would generally need about three or four weekly visits for us to be able to customize the perfect denture that suits your mouth before we can issue your full / partial denture to you.
Q What precautions do I need to take with my dentures?
A You should always handle your dentures with care. Remember to take them out before you sleep and place them either in your denture box where you can soak them overnight along with the cleansing tablets to keep them clean or in a suitable container filled sufficiently with water to keep them moist.