CHAS & Medisave Claims / PG Benefits

The Community Health Assist Scheme (CHAS) is a scheme by the Ministry of Health (MOH) that enables Singapore Citizens from lower and middle-income households to receive subsidies for medical and dental care at participating clinics. de Pacific Dental Group is a participating CHAS clinic.
To find out more about CHAS and how you can apply, please visit https://www.chas.sg/.
Pioneer Generation (PG) Package
To recognise and honour the contributions of Singapore's Pioneer Generation in nation-building, the government has launched a Pioneer Generation (PG) Package that provides them with several forms of healthcare support. Specialist Dental Group is a participating PG clinic.
If you belong to the Pioneer Generation, there is no need for you to apply for the Pioneer Generation Package. The Pioneer Generation card will be sent automatically to your registered NRIC address by Sep 2014. It is valid for life.
How much dental subsidies will I receive?
Under the CHAS Scheme, the colour of your Health Assist card indicates the subsidy tier that you are entitled for – either CHAS Subsidy Blue or Orange tier. All Pioneers will also receive subsidies.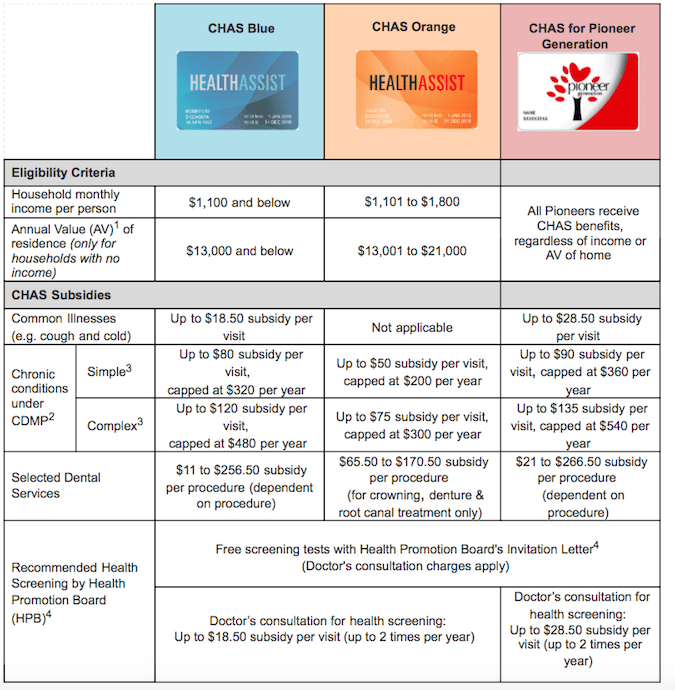 1AV is assessed by IRAS. An AV of up to $21,000 covers all HDB flats and some lower-value private properties. To check the current AV of one's property, one will need to log in to myTax Portal myTax Portal with his SingPass > e-Services for Property Tax> View Property Portfolio.
2 These are Diabetes, Hypertension, Lipid Disorders, Stroke, Asthma, Chronic Obstructive Pulmonary Disease (COPD), Major Depression, Schizophrenia, Dementia, Bipolar Disorder, Osteoarthritis, Benign Prostatic Hyperplasia, Anxiety, Parkinson's Disease, Nephritis/Nephrosis, Epilepsy, Osteoporosis, Psoriasis and Rheumatoid Arthritis.
3 "Simple" refers to visits for a single chronic condition. "Complex" refers to visits for multiple chronic conditions, or a single chronic condition with complication(s).
4 Subject to HPB's eligibility criteria.
What do I need to do to receive treatment?
To receive subsidies for your dental treatment, you will need to produce your valid Health Assist or PG card and NRIC upon registration.
Cardholders below 15 years old will have to present their valid Health Assist card with student ID or birth certificate.
Cardholders below 21 years old will need to be accompanied by the parent or legal guardian on their first visit to our clinic.
MediSave Claims Eligibility
*Dental treatments are generally not claimable under the MediSave scheme unless the treatment involves surgery and is performed due to medical reasons. Non-surgical dental treatments such as extractions, crowning, dentures or braces are not MediSave-claimable. Contact us to find out if your treatment is claimable.