There's nothing more attractive than a perfectly straight and healthy-looking smile. But while we all start our lives with a healthy set of pearly whites, sometimes time and circumstance can rob our smile of its lustre. We may lose teeth as a result of accident, injury or trauma or simply due to an extraction as a result of gum disease or tooth decay. The great news is that dental science has become so advanced in recent years that there are a range of solutions to restore your smile to its former glory, whatever the cause of your tooth loss.
The world of modern dentistry offers a range of solutions for lost, partially lost or damaged teeth such as crowns, veneers, bridges, dentures and dental implants which can all be viable depending on how the tooth (or teeth) in question was lost, how much of the tooth remains and the condition of the gums and bone surrounding the tooth. In most instances of tooth loss, a dental implant offers the closest solution to regaining your natural tooth. However, many overlook this option and opt instead for a dental bridge. Here we'll take a look at the pros and cons of a dental implant as well as a direct comparison between dental implants and bridges. Hopefully by the end of this post you will understand why a dental implant is the ultimate solution for those who want to return their smile to its former pristine appearance as well as offering the most natural looking solution on the market.
What happens when a tooth is lost?
Before we get into the minutiae of what makes a dental implant the most viable and natural looking (and feeling) solution for tooth loss, let's take a look at what happens when a tooth is lost. Regardless of the cause, lost teeth can have a lasting effect not only on your appearance but on your ongoing oral hygiene and dental health.
1) Unsightly gap in the mouth when speaking or smiling especially if it is the smile zone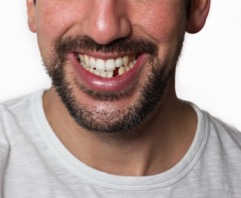 For starters you're left with an unsightly gap which can detract from your appearance when you are speaking or smiling, especially if it within the smile zone.
2) Unwanted movement of teeth causing food trap and more challenging hygiene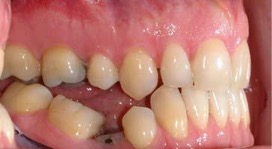 When you chew your food, this gap becomes a food trap. This means that food can get stuck in this gap and start to biodegrade leading to potential issues with bad breath and a risk of infection.
3) Loss of continuous chewing surface for proper eating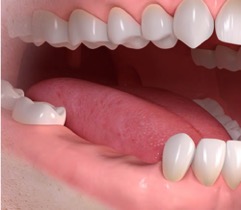 The loss of the tooth also leads to a loss of a continuous chewing surface which can make it a little harder to properly chew and thus digest your food.
4) Increased risk of crack on remaining teeth and tipping of the front teeth when back teeth are lost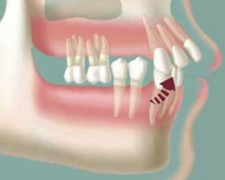 The loss of surface area and support will also lead to increased wear on your other teeth which can make them uneven and increase the risk of cracking or tipping of the lower front teeth.
5) Loss of bone support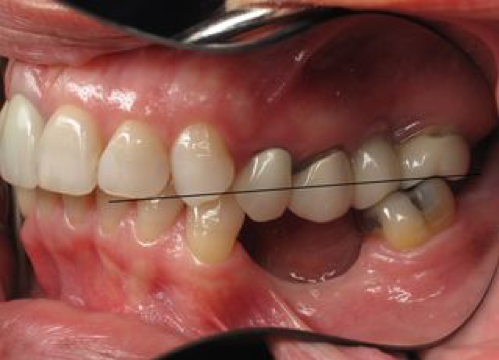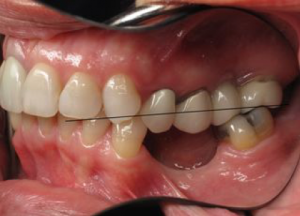 Moreover, it can lead to a loss of bone support which can result in further tooth loss in the future.
When dealing with the issue of tooth loss; there are only three viable solutions; dentures, dental implants or a dental bridge. In most cases, patients opt for one of the latter two. Let's compare the two now…
Dental implants vs Bridges
In order to accurately assess which solution is best for you, it's important to arm yourself with the facts. The more you know about the pros and cons of each solution, the better placed you are to make an informed decision according to your needs and budget. With this in mind, let's take a look at the pros and cons of each solution.

Conclusion
It's clear to see that while a dental implant may represent greater upfront costs, they are by far the most effective, natural-looking and durable solution for replacing lost teeth. But your smile is important to you, which is why it's essential to choose a dentist whom you trust.
Why choose Depacific?
At Depacific, we understand how important it is to get your dental implants right. This is why we have invested in the very best equipment to ensure an easy and seamless process for results that you'll love for decades.
We have spared no expense in bringing you some of the most popular and well researched implants in both the local and international markets. We use implants by Osstem and Straumann, a leading name in the field of dental implants with grafting material from Geistlich, another leading brand in dental biomaterial. We have a 3 dimensional radiograph in both our Ang Mo Kio branch and our town practice, Orchard Scotts Dental at Liat Towers to ensure that you have every chance of success before the procedure even starts.
We understand the importance of a proper assessment and consultation with a dentist to discuss the specifics of your case and help you to find a solution that's right for you. Our friendly and helpful staff are waiting to hear from you right now, so get in touch today and take that first step towards a dazzling smile for life!