Invisalign Teeth Straightening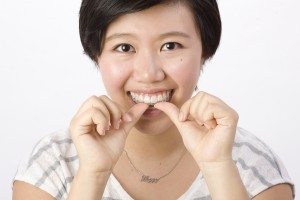 Our Invisalign® services take a modern approach to straightening teeth, using a custom-made series of aligners created for you and only you. These aligner trays are made of smooth, comfortable and virtually-invisible plastic that you wear over your teeth. Wearing the aligners will gradually and gently shift your teeth into place, based on the exact movements your dentist plans out for you. There are no sharp metal brackets to attach and no wires that poke. You change aligners every two weeks, until your treatment is complete. You'll achieve a great smile with little interference in your daily life.
When to Get Invisalign?
First, you need to identify which orthodontic situation you would like to fix. Invisalign can treat underbite, crossbite, overbite, gapped teeth and crowded teeth. Kindly confirm from a qualified dentist on whether your condition can be treated by Invisalign. Secondly, your age is another determining factor that helps you know when you can get Invisalign. This form of treatment is ideal for teenagers and adults. It is not a good alternative for kids since their teeth are still growing. Moreover, Invisalign is better than braces because it is a transparent option. When getting Invisalign, you also need to be fully dedicated since it must remain in your mouth for 22 hours per day. And, you must remove them when eating or drinking.
Procedures of Invisalign Treatment
You will need first to find an Invisalign provider. When doing this, make sure you consider the provider's certification and experience. An experienced Invisalign provider is a guarantee that your particular treatment will be successful. Once you find an Invisalign provider, you will be asked to take 3D pictures of your teeth. These images will be used to creating your custom aligners. The Invisalign provider will create custom aligners made from BPA-free and malleable plastic materials. After this, you will also be required to go for dental checks to monitor the treatment. The treatment period may vary from one person to another. But, it should take a year in both teenagers and adults, and you can now enjoy straight and beautiful teeth.
Benefits of Invisalign?
Invisalign trays are invisible, and this is one of the many reasons as to why people love them. Unlike braces or wires, Invisalign trays don't put your life on hold.
They are super comfortable because they are made of plastic, and since they are custom-made, they will fit your mouth perfectly.
Invisalign trays don't come in between you and your cleanliness. You can remove them with ease and clean your teeth without any inconvenience.
It is a time-saving teeth straightening option. Compared to other alternatives where you have to visit the dentist now and then, Invisalign requires maintenance after every six weeks.
With an Invisalign treatment, you can eat whatever you want, as long as you remove them when doing so.
Invisalign treatment provides you with utmost flexibility. You can either wear or take them off when playing your favorite sport.
Invisalign treatment is a safe and convenient way for you to straighten your teeth and achieve a beautiful smile.
Book an appointment now by filling up the form below or calling one of our clinics island-wide! We also provide a selection of Corporate Dental Packages for Companies.